2006 AWARD WINNERS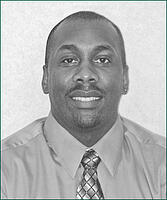 Well on his way to becoming a Distinguished Alumnus of Tomorrow, this past summer Brian Christian was awarded a coveted and prestigious internship offered by Compuware Corporation. Midway through he said that Marygrove prepared him very well for the challenge he faced at the computer tech services company.
Brian, who is in the college's Honors Program, is working to complete a dual degree program—a Bachelor of Science in Computer Information Systems and a Bachelor of Science in Business with a concentration in Accounting. He has a 4.0 grade point average. His honors projects have received high praise "…for the sophistication of his legal briefs and for the comprehensiveness of his analysis of the impact of new legislation dealing with accounting fraud," according to Jane Hammang-Buhl '68, chairperson of the Business and Computer Information Systems Department. She also cited a project where "…his ability to weave his readings into class discussion demonstrated a subtle understanding, not only of the material, but also of the group dynamics of sharing insights in a classroom setting."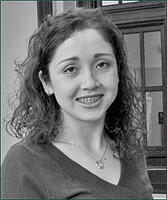 In many ways, Yesenia Lara represents that individual for whom for College was established. She is bright, demonstrates tremendous potential, exhibits leadership at the right time, is Catholic, would be unable to attend college if it were not for the support of Marygrove," said Dr. Glenda Price, former president, in her letter nominating Yesenia as 2006 Distinguished Alumna of Tomorrow. "It has been my pleasure to watch her grow from her first shy days at the College in my MG101 class to today when she is an active, contributing member of our community," added Dr. Price.
Entering her senior year, Yesenia is majoring in Biology with a minor in Chemistry and is in the Honors Program. She is vice president of the Science and Mathematics Club (Sigma Alpha Mu Chi). She was selected to be a Marygrove "Ambassador," attending many college-sponsored activities and events to greet guests, assist and represent the college. Yesenia is a busy young woman.
A Peer-Led Tutor in Organic Chemistry, Yesenia has been a laboratory assistant for both Dr. Sally Welch and Dr. Steve Scribner and worked on the Sister's Island research project in Monroe. She received the Emmet and Francis Tracey Scholar Award in 2005 and the Sister Suzanne Fleming Award in 2005 and 2006.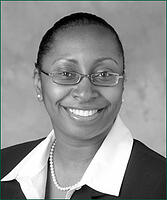 When Rita Edgeworth Fields completed her talk to the Marygrove 2006 graduates at the ceremony inducting them into the Alumni Association, the audience as one rose to their feet in a standing ovation after hearing her story of triumph over circumstances and the role played by Marygrove College. Now at age 33, she is the Director of Workforce Diversity, Affirmative Action, and Compliance for Henry Ford Health System though her story began with much less promise.
At 17, Rita ran away from home and left school to escape a violent, mentally ill mother. The hazards of homelessness increased when she found herself seven months pregnant, retching with food poisoning from eating dumpster food and lying next to a trash compactor behind a Kroger store. She turned to prayer and her pleas were answered in the form of another homeless person who told her about the South Oakland Shelter in Royal Oak. After walking miles to the shelter, she had to tell the staff she was 18 so she could enter the program. "They were so wonderful to me," she says. The social workers and church volunteers took her to a doctor, supplied maternity clothes and made sure she ate properly. Because the shelter had a 30-day time limit, Rita decided to return home with her baby and figure out a way to deal with her mother's schizophrenia and create a better life for her son, Alaric.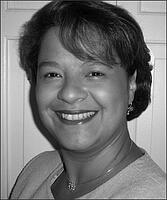 Described as "full of life" by friends and colleagues, Bridget Gonzales is a woman who lives fully the Marygrove ideals of competence, compassion and commitment, says Maura Cantor, who describes the day they met 15 years ago. "As I found my way down the hall to my new office (in the U.S. Environmental Protection Agency), I was introduced to a woman who was larger than life—full of energy, eager to learn, excited to lend a hand, brimming with ideas and ready to work."
Currently Bridget is the Chief of the Office of Legislative, Education and Intergovernmental Affairs for the U.S. Department of Commerce Minority Business Development Agency (MBDA) in Washington, D.C. According to Agency Director Ronald Langston, Bridget has enhanced the agency and its mission through media and advocacy outreach, including two special sections, inserts in issues FORBES magazine, June 2005 and 2006, which focused on high-growth minority business enterprises. In praising her competence, he said that the FORBES exposure opened financial and contractual opportunities for minority business nationally and locally. She has also worked tirelessly to assist minority business enterprises in the hard-hit Gulf region as a key member of the outreach team. The goal is to re-engage minority business in the Gulf region.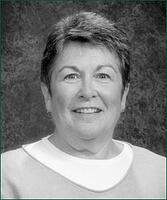 Kay Hughes embodies the advice she gives to students: "Make sure you fi nd something you love to do and do it with joy and good humor." Whatever the role–teacher, moderator, advocate, volunteer or fundraiser –Kay plunges in and gives her all.
She taught English at Marian High School, an IHM-sponsored institution in Bloomfield Hills, Michigan, for 34 years and retired in June as chairperson of the English Department. In the classroom, she infused her literature and writing classes with a sense of social justice and responsibility to do something to counter injustice. In reading and discussing The Grapes of Wrath by John Steinbeck, the young women discovered that hard work alone could not always overcome the disadvantages of place and class, that the playing field was not necessarily level. Students were encouraged to write letters to the newspaper in protest or support for a cause they believed in.
Former student Dr. Gabriella Civil told of her experience at Marian, "I felt keenly my difference as a young, black, displaced Detroiter from my predominantly white, upper-middle class, suburban classmates. How wonderful it was, then, to have Ms. Hughes take me under her wing. She encouraged and nurtured my love of literature and writing. She exposed me and other students to art, theater and opera…and took a group of us to the first-ever Marygrove African-American Writer in Residence reading, an event that transformed my life." Dr. Civil now teaches English at the College of St. Catherine, St. Paul, Minnesota.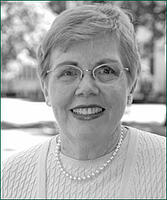 In her 38 years as a volunteer at the Cabrini Clinic of Holy Trinity Parish in the near-downtown Detroit area, Sheila Keefe has seen such an increase in need that, most nights, some people must be turned away or referred elsewhere. On the second and fourth Thursday evenings of each month, Sheila is on hand when the clinic opens at 6 p.m. and she dispenses nursing care, nutrition information as well as compassion until 9 or 10 to the patients who come from all over southwest Detroit, many of them homeless. She helps out often outside of her scheduled hours. For instance, she recently arranged to pick up a 72-year old woman for an appointment at the Kresge Eye Institute. When she was unable to get an answer to her worried knocks, she returned with the clinic director and they were able to convince the landlord to open the woman's door where they found her unconscious on the floor surrounded by the chaos of 14 cats. It was Sheila's persistence that saved this woman but she stands in awe of the capacity of those she serves to survive. She describes the lives of those she assists as real life, decidedly unglamorous versions of the "reality" Survivor shows.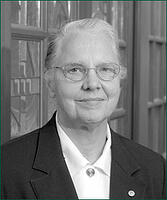 Amata Miller holds a passionate belief that economics should be used as a tool for social justice, equity and fairness underscores Sister Amata Miller's teaching and her professional choices over the course of the five decades of her career. To that end, she has worn many hats at Marygrove College, within the IHM order, in the world of economists, academics and in the agencies advocating for social and economic justice.

Sister Amata says that helping the people she has taught in classes and workshops over the years become agents of social justice has been a lifelong quest. Michigan Supreme Court Justice Maura Corrigan, Class of 1969, said in her nomination letter, "Sister Amata had the most profound influence on me of any teacher in my life. She opened worlds of knowledge to us and offered a firm commitment to scholarship and rationality in this often chaotic world." Another former student, Carol Litka, '72, who is now a financial advisor with a major brokerage firm, recalls, "Sister Amata inspired me and gave me the confidence for the later choices I made."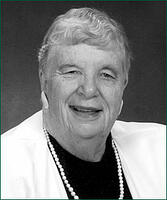 Within weeks of graduating from Marygrove in l946, Peg Brown Dudar was already at work in social work as a caseworker determining client eligibility in Wayne County. She credits Sister Christina Swartz's foresight in pushing her and other senior students to take the state social work licensing exam in Lansing prior to commencement. Sixty years later, Peg is still working as a field instructor/adjunct faculty for the University of Houston Graduate College of Social Work.
Driven by a personal motto that is framed on her desk, "The key to Heaven is love for the poor," and a passion for figuring out how to fulfill need wherever she saw it, Peg has had a distinguished career in social work in Houston, Texas, since 1970 when she returned to work after her four daughters were school-aged.
In 1979, to eliminate duplication of effort and better serve the needy, she organized the Westheimer Social Ministry (WESM), a coalition of ten churches of different denominations. The coalition's mission was to deliver social services in Southwestern Houston by pooling financial resources and volunteers. Member churches would refer all requests for assistance to Peg and her many trained volunteers interviewed each client to determine need and how best to help. She trained and supervised more than 30 volunteers including social work students, court-ordered community service workers and church volunteers. WESM also operated a resale shop called "Second Blessings." Donated household goods, furniture and clothing were either given directly to the poor or sold for funds to aid the ministry with rent, utilities or medical needs. WESM is now known as WHAM-West Houston Area Ministry.